Well, it's November already – how the heck did that happen?!? I wrote "November 1st, 2016" on my white board the other day and happily realized that Thanksgiving Break and a piece of my mother's caramel apple pie were a mere three weeks away...
Truthfully, this looks a lot better than my mom's apple pie. Come on, Mom, step up your game!
Thinking about Thanksgiving break, however, made me remember an article I read back in August about whether we (meaning society, not just teachers) were teaching our young people to value their education and feel gratitude toward their teachers for preparing lessons for them each day.
Here's a link to the article. Take a second to go read it. No, seriously...go ahead. I'll be here when you come back. I'm just gonna stare at the picture of that apple pie for a little bit longer.
I was hooked on this article from the first paragraph. "Certain students, habitually, and regardless of the lesson, walked out the door with a variation of, Thank you, Mr. Cohen."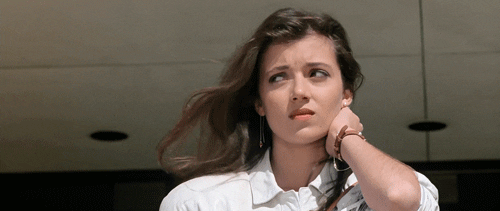 I feel like I get variations on this look way more than I get "thank yous" for my lessons...
So, are we making a mistake by not teaching our students to be more thankful for their educations? More mindful of the hard work their teachers put into designing, planning, and implementing their lessons? Should we be taking the time to make them more aware of how lucky so many of them are to be receiving the quality of education they receive and the environment in which they receive it compared to other students around the world?
It isn't about making our students feel guilty or embarrassed about their privilege, just about making them aware of it. How can we make our students aware, not just of how lucky they are to be receiving an education in the school they are currently in, but also for the people who work diligently each day to provide them with that education?
You know this super engaging collaborative pair activity, the cute reflection sheet, and
the awesome share-out summary didn't just happen, right, Susan? Right?!?
I like the idea of encouraging students to recognize the people in their lives they should feel grateful for AND encouraging them to take the next step and express that gratitude. And not just because I love the idea of teachers, coaches, mentors, and others getting a little much-deserved love now and then. Perhaps the most important reason to get our students to do this is that it's good...for them!
So how do we begin to encourage our students to express gratitude towards those around them in a way that doesn't cause massive amounts of eye-rolling?
Here are three easy ways we can begin to encourage our students to adopt an "attitude of gratitude." (Crap, I promised myself I would NOT use that phrase.)

1) KEEP IT SIMPLE AND APPEAL TO THEIR LOVE OF SOCIAL MEDIA
This idea was thought up by one of my amazing colleagues. (You know the type, the ones who are always doing something cool and when you walk into their room you're always thinking -
That's awesome! How the hell did she come up with that?!?
) Go follow her on Twitter - @ngclever
Anyway, during Teacher Appreciation Week last year, while the rest of us were saying
"Hey, kids, did you know it was Teacher Appreciation Week? So maybe this week go and thank one of your teachers."
and our students were laughing at us and rolling their eyes...@ngclever took pictures of her students in front of a thank you message and posted it on Twitter. And
loved
it.
The beauty of it really is its simplicity. All the students had to do was write down a teacher's name and snap a selfie, but by doing so they took a few minutes out of their day to consider a teacher who had made a difference in their lives and thank them (and the teachers got a really cool photo to add to the "Reasons Why I Teach" file that we all keep hidden away somewhere.
they
I am definitely copying this idea during Teacher Appreciation Week next year...along with whatever other cool ideas @ngclever comes up with between now and then.
2. MAKE IT A LESSON
As we approach Thanksgiving, those awful "day before break" days are looming. Why not take a few days before the holiday specifically designed to express gratitude and encourage your students to tell the people in their lives that they are grateful for them. You can keep it simple and have them send an email or a tweet or turn it into a letter writing assignment. Here's a link to a resource I use each year with my classes that reviews the parts of a friendly letter, has students reading some nonfiction texts about the benefits of gratitude, and has them working collaboratively and independently.
You can find it on Teachers Pay Teachers:
3. CHANGE THE CULTURE
Did you see that viral video of the teachers at Oak Park High School in Kansas City, Missouri telling their students that they were what inspired the teachers to come to school each day? You haven't? Well, take a look:
I'm not crying...you're crying.
Why not take this model and twist it a bit. Video teachers being asked what students they are grateful to get to work with, or who in the building they are grateful for and then asking students the same. Imagine how quickly the school could change as people realized that they had people around them who were grateful for their presence, their assistance, for who they were.
As Thanksgiving Break approaches, I know I'm going to be grateful for a few days away from work...but I'm also going to try to spend some time between now and then expressing my gratitude to the students and colleagues with whom I am lucky enough to spend my days. If you do the same, I'd love to hear about it in the comment section!